Yarmouth, NS – One of Canada's longest-running, most successful commercial fishing shows wrapped up at the Yarmouth Mariners Centre this past weekend. The Eastern Canadian Fisheries Exposition, presented in partnership with the Navigator Magazine, welcomed 4,813 commercial fishing professionals over the course of two days.
"The first day of the show was like nothing we've ever seen in this venue," said Show Manager, Shawn Murphy. "It was a door-busting crowd – we even had to make room for parking across the street. Many companies made sales right on the show floor and others generated leads that will keep business going for months to come."
Several features of the show kept attendees busy throughout Friday and Saturday. On Friday evening, a special networking reception was held at the Rodd Grand with exhibitors alongside local seafood suppliers and processors. A huge thanks goes out to the support from seafood donors from throughout Southwestern Nova Scotia – the buffet was a hit amongst all and a highlight for the event.
Also on Friday, new inductees were welcomed to the Atlantic Canada Marine Industries Hall of Fame. In attendance were Colin Fraser, Member of Parliament for West Nova, and Zach Churchill, MLA for Yarmouth and Minister of Education and Early Childhood Education. Awards were given in three categories: Mariner, recognizing individuals who work or have worked on the water in any marine industry; Processor, recognizing individuals involved in the business of processing, from line workers to company owners; and Builder, recognizing those who have made contributions without having directly participated. Congratulations to the new Hall of Fame members:
Brian Adams from Cape George, Antigonish County (Mariner)
Jean Guy d'Entremont from Yarmouth, Nova Scotia (Processor)
John Hines from Central Argyle, Nova Scotia (Builder)
This year's edition offered visitors a chance to see innovative products for the fisheries and marine industry and chat with companies from across the Maritimes, Canada, and abroad. Some of the positive feedback from exhibitors:
"This show is the best way for us to connect not only with new customers, but to reconnect with our existing customers & various partners in the local marine industry. Always a great show."
– Brian Sibley, Mackay Marine Electronics
"Thank you for hosting an excellent Expo in Yarmouth.  It was well organized, orchestrated, and executed."
– Jonathan Underwood, Fisheries and Oceans Canada
"Best Eastern Canadian Fisheries Expo yet!"
– Lloyd D'Eon, Vernon d'Eon Fishing Supplies Ltd.
"Lots of visitors came in for the 2-day show and everyone that works in the fishing industry had a positive vibe."
– Gilles Theriault, A.F. Theriault & Son Boat Builders
Special thanks to sponsors of the event: Tri-Nav Group of Companies, the Navigator Magazine, Marindustrial, Twin Disc, Vernon d'Eon Fishing Supplies Ltd., Genrep, Hampidjan, Cummins, Wajax, and Rainbow Net & Rigging. Thank you as well to those who presented seminars at the show: the Fisheries Association of Nova Scotia, Fisheries and Oceans Canada, the Coldwater Lobster Association, Belliveau Veinotte Inc. Chartered Professional Accountants, Mustad Autoline, A.S Fiskevegn, Beitir EHF, and Oilwind Longline Solutions. The educational sessions were well-received, and covered industry hot topics such as rope-less fishing gear and the Atlantic Fisheries Fund.
The Eastern Canadian Fisheries Exposition is part of an array of marine trade events in Atlantic Canada produced by Master Promotions Ltd. in partnership with The Navigator. Other related events include the North Atlantic Fish & Workboat Show and Fish Canada Workboat Canada, held in Saint John's, NL and Moncton, NB respectively, which will both return in 2020. For more information on the 2021 Eastern Canadian Fisheries Expo, stay tuned to the website as well as the show's Facebook and Twitter pages.
SHOW PARTNER
Eastern Canadian Fisheries Expo is presented in partnership with the Navigator Magazine, the Voice of Atlantic Canada's Fishing Industry.
2019 Exhibitor List
A.F. Theriault
A.L. LeBlanc Ltd.
ABCO Industries Limited
ADF Diesel
All About Hydraulics & Marine Ltd.
Allain's Sales & Service Ltd.
Alliance Mercantile Inc.
Aqua Production Systems
Ashored Innovations
Atlantic Crane & Material Handling
Atlantic Electronics Limited
Belliveau Veinotte Inc.
Broad Distributing
Blois Fish Processing Automation Limited
Business Development Bank of Canada
Cabot Shipping Supplies
Canadian Coast Guard Auxiliary Mar
Canadian Maritime Engineering Ltd.
Chaussures Regence
Coldwater Lobster Association
Comeau Marine Railway Ltd.
ComNav Marine
Cube Automation
Cummins Eastern Canada ULC.
Department of Fisheries and Oceans
Digby Marine Supply
Dixon's Marine Group 2000 Inc.
DSS Marine Inc.
Duramax Marine LLC
East Coast Hydraulics - Newfoundland & Labrador
East Coast Hydraulics Sales Ltd.
Fairway Insurance Services Inc.
Fisheries and Aquaculture Loan Board
Fisheries Safety Association of Nova Scotia
Four Ports Capital
Genrep
Globalstar Canada
Grant Thornton
GreenOil Solutions Limited
Grundéns
Guimond Marine Finishers Inc.
Guy Cotten Canada
Hampidjan Canada
Hawboldt Industries
Helly Hansen - Workwear
Hines Marine Services Ltd.
Hurricane Industrial Equipment
Hydro-Slave
ICOM Canada
Industrial Bay International Ltd.
Jackfield - Distribution Eugène Gagnon Inc.
Jastram Technologies Ltd.
JRCC Halifax / Canadian Beacon Registry
K&D Pratt
L. Himmelman Elastomers Ltd.
Lobster Bash
Lubri-Lab Inc.
Lunenburg Industrial Foundry and Engineering
Mac Mac & Mac Lawyers
Mackay Marine Canada
Madsen Power Systems
Mahone Marine Ltd.
Marindustrial Inc
Martak Canada Ltd.
MCT Insurance
Mermaid Marine Products
Mustad Autoline Canada Inc.
New Way Diesel / Diesel-Bec
Nova Scotia Boatbuilders Association
Novatec Braids Ltd.
NSCC School of Fisheries
Ovatek Inc.
P&E Manufacturing
Pennecon Energy Hydraulic Systems
Perennia Food & Agriculture Inc.
Perennia Food & Agriculture Inc.
Polynt Composites Canada
Polysteel Atlantic Limited
PRAXES Emergency Specialists
Prime Material Handling
Public Services and Procurement Canada
PYI Inc.
R.W. Fernstrum
Rainbow Net & Rigging Ltd.
Raymarine
RBC Wealth Management - Dominion Securities
Regroupement des pêcheurs du sud de la Gaspésie
Rossway Trap & Marine Supplies
Saeplast Americas Inc.
Safety Branch, NS Dept. Of Labour & Advanced Education
Sansom Equipment Ltd.
Scania
Sea Pro Services
Sealand Insurance
SHOWA
Spartan Industrial Marine
Stright-Mackay Ltd.
Superior Glove
Surewerx
The Lobster Trap Company
The Navigator Magazine
Topline Industrial Sales
Toromont Cat
TRC Hydraulics Inc.
TriNav Fisheries Consultants - TFC
Trinav Marine Brokerage
TriNav Marine Design Inc.
Troys Marine Broker
Vernon d'Eon Fishing Supplies Ltd.
Wade's Wire Traps Ltd.
Wajax
Wedgeport Boats Ltd.
Yarmouth Scales Limited
ZF Marine
Location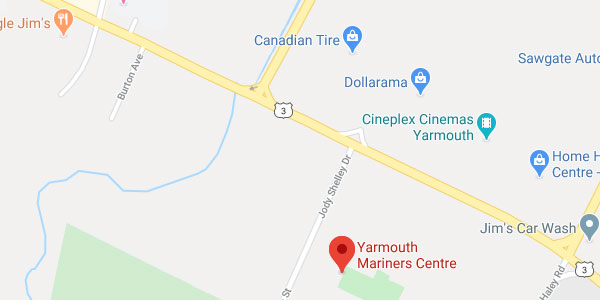 Mariners Centre
45 Jody Shelley Dr
Yarmouth, NS
B5A 4R3
(902) 742-2155